We have established a permanent tailgating spot. Just outside of the Oneida Gate in lot 1 at Lambeau Field parking lot (to the left of the Oneida Gate toward the front if you are looking at this gate from South Oneida St.). The main vehicle is a white Pickup Truck that has in black No 7 Jack Daniels magnets on the doors. There are usually 3 poles with multiple flags flying (one side has a USA & black Jack Daniels and the other a Canadian & yellow with a smiley face and one with the PFUFA flag). This is the tailgate home of Cheese FORCE for the season (and hopefully for many seasons to come). Thanks Scott & Justin!!! Stop by and say Hello!!!
One of the great traditions of our tailgate is when "Tim the Diehard Packer Fan" is played.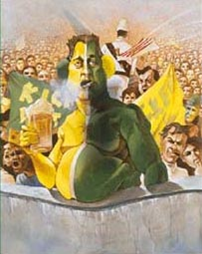 Click on the picture to hear the song
5 ticks left in the Super Bowl, the Pack they trailed by one. The ball marked near the fifty. Favre warmed up his gun, and in the other end zone a man rose to his feet. Tim the Die-Hard-Packer-Fan, knew this was destiny. Shirtless, painted green to gold from his forehead to his heiny.
The smile slowly left his face. He said, "Someone, hold my Leinie." He wet his finger, felt the air. A headwind turned their way. "Favre", he thought, "He's got the gun, but he needs our help, ya hey?" He lumbered down the steps. His mission now was clear. Neutralize the headwind, or wait another year. And as he stepped onto the field, security stopped him short. They asked him who he was, he said, "I'm Tim, I'm from up Nort." Whereabouts they fired back. Sheboygan, he revealed. Whaddy catch?
He said "mostly Pike" They let him on the field. As Favre barked out the signals, Tim chugged a giant beer. And then another, and one after that, as tension filled the air. The ball was snapped, a route was run, Favre unleashed the ball. Never had there been a spiral, so clean and far, and tall. And then it hit the headwind and started coming back. Tim felt a rumble in his gut, now was time to act. The burp came out so long and hard, the Yukon felt a breeze. A tidal wave of beer and brats and a half a wheel of cheese. The blimp was lost for 7 days, skybox glass was shattererd. An OshKosh woman lost her teeth. Tim's stomach left in tatters. But the pass game down, the catch was made, and just before Time died. HE was heard to say "The Pack are Back of For Cry Ay Ay"
His headstone reads, "Tim gave his life. Never did he wince. He tailgates high above old Lambeau, grilling brats with Vince"
The Wedge of Allegiance
A WEDGE OF CHEDDAR,
protects us better,
when a blizzard hits the tundra,
and our tailgate Sunday will go til Monday,
and for sure to be much fun YAH!!!
With brats and beer, cheese and crackers,
In all this cold our faith will hold,
to stand tall, strong and proud,
and always cheer extra loud,
for our GREEN BAY PACKERS!!!!